HARDCOPY – How to Write a Fast and Easy Drum Chart – PLUS 1 Month Subscription Code to Drum Chart Builder App
$24.99
Learn How to Write a Simple Drum Chart Fast Without Writing Bar After Bar Of Notation and STILL, Play the Song Just Like the Recording. Online access to demonstration tracks and answers sheets.
All for $24.99 plus $3.00 shipping
56 Pages of Drum Charting Instruction
54 tracks of Basic and Advanced Drum Patterns
1 Original Song Tracks to Chart and Play Along
15 Drum Charts of Popular and Current Music ( All built with the Drum Chart Builder Software)
12 Step Easy Method to Writing a Drum Chart for Cover or Original Music
4 Pages of Basic and Advanced Drum Patterns to listen, practice and learn.
3 Different Blank Charts For Copying
1 Month Subscription to the Drum Chart Builder App
Description
Learn How to Write a Simple Drum Chart
Fast Without Writing Bar After Bar Of Notation
and STILL Play the Song Just Like the Recording.
Today You Can Learn How to Write a Simple Chart and Use it At Your Gig Tonight.
  If You Are A Working Drummer, Returning Drummer or a Drummer Who is Ready to Go Pro,
You Can Make Your Gigs and Sessions go smoothly….And I GUARANTEE You Will Never Miss an Accent or Fill Again! From the desk of Elizabeth Ficalora
Tuesday, 10:28 a.m.
Dear Fellow Drummer, My name is Liz Ficalora,–Berklee graduate, PASIC Master Class Clinician, Remo and Vic Firth Artist endorsement, teacher and working professional drummer, percussionist in Nashville, TN.
And I have a question…
Has this ever happened to you?
Have you ever gotten a call at the last-minute for a fill-in gig that you needed to write drum charts for…
…and the gig starts in an hour?
Or you landed a job with the hottest road band in town, that is leaving for Chicago in 2 weeks!-and the guitar player hands you a stack of CDs with 97 songs that you have to know perfectly…
If you've faced a situation like this, then…
you'll be very excited to hear about an incredible
How To Book that I'm about to share with you!
Announcing the release of
"How To Write A Fast and Easy Drum Chart."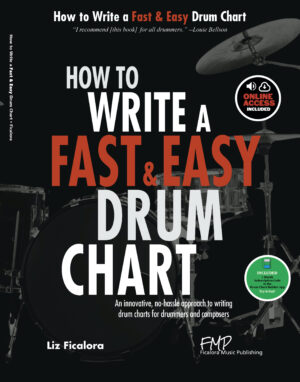 A simple how to method to writing drum music for cover and original songs.
Written exclusively for Drummers

56 Pages
54 Downloadable Demonstration Tracks Included
1 Play Along Track
15 Charts of Songs (see song list in images) to use at your gigs and more……
Plus a 1 Month Subscription code to Drum Chart Builder App for you to try!
All for $24.99 plus $3.00 shipping in the US
(No International Shipping Available)
This method is becoming the standard that is used by professional drummers worldwide.
Great for any level drummer or student.
Teachers will find this book to be the perfect tool for all level drum students.
How to Write a Fast and Easy Drum Chart teaches an innovative and simple approach to drum chart writing that takes almost no time to learn. Charting a song helps you play with greater accuracy, ensuring that you play the song correctly the first time and every time. This, in turn, will help you land better gigs and build confidence. Designed for drummers, composers, and students who work with different bands and need charts for al the various songs they encounter, the method taught here won't require you to turn pages or read bar after bar of drum notation, Instead. You'll see the full form of a song on one piece of paper and only have to write a few measures of drum notation to keep yourself in the groove. Make your life easier and land more gigs when you can easily and accurately play songs right away.
Author Liz Ficalora is a Clinician, Teacher and Working Professional Drummer, Percussionist and the designer
of the Drum Chart Builder Software Program. She has been featured in Tom Tom Magazine, Drum! Magazine, Rhythm Magazine and Berklee Today.
Endorsed by Louie Bellson, Gary Chaffee, Remo, Vic Firth, Drum! Magazine, Guitar Center, Rich Redmond, Lalo Davila and Jeff Salem.
The Book Includes:
56 Pages of Drum Charting Instruction
54 tracks of Basic and Advanced Drum Patterns
1 Original Song Tracks to Chart and Play Along
15 Drum Charts of Popular and Current Music ( All built with the Drum Chart Builder Software)
12 Step Easy Method to Writing a Drum Chart for Cover or Original Music
4 Pages of Basic and Advanced Drum Patterns to listen, practice and learn.
3 Different Blank Charts For Copying
1 Month Subscription Code for the Drum Chart Builder App to Try!
(Look for Your Subscription Code in the inside the cover)
All Drum Charts are built using the Software Program Drum Chart Builder 
The new Drum Chart Builder Software Program, designed by the author Liz Ficalora, is available now.
Build your charts using your new skill just like the one in the book. Charts will look beautiful and clean. Build your charts on your computer and take a mobile device and go!
Visit Drumchartbuilder.com to read more and start the 14 day trial for free. 
The Book Covers Techniques in:
How To Chart Out The Song Form
How To Determine The Feel Of The Song
How To Determine the Time Signature
The Basic and Advanced Snare Drum and Bass Drum
Patterns That Are Used The Most
How to Identify and Write Simple Drum Notation for Your Songs
Organizing Your Materials
Techniques to Counting the Band In
How to Write Out a Medley
Order your Hard Copy for $24.99
and you'll have the tools you need
to tackle any drumming job with confidence.
All for $24.99 plus $3.00 shipping in the US
Order your copy today and get…
"How to Write a Fast and Easy Drum Chart"
An amazing drum charting system that is simple and easy to use.

My IRONCLAD, NO B.S. Guarantee:
Take one full year to examine and use this system.
Don't Delay Your Career Any Longer!