ABOUT OUR CHARTS
WHAT IS AND EASY DRUM CHART?
It is a accurate and simple drum music that focuses on the form of the song rather than bar after bar of music notation. This will allow all drummers to know exactly where they are in the song, play the time patterns and fills in the right places and still be able to keep focused on the groove of the song.
IS THERE A LOT OF NOTATION TO READ?
No, most patterns are one or two bars in length written clearly
WHAT IF I DON'T READ NOTATION?
Only a basic knowledge of notation is required. For the easy basic charts you would have to know what a quarter note and eight note is only. If you buy a chart of a song you already have on CD, you probably will have no trouble understand the simple notation written on the chart. You might even find out that you can read music.note: The book covers the basic drum patterns to help you understand simple drum patterns and what they look like. READ MORE ABOUT THE BOOK
WHY ARE YOUR CHARTS BETTER?
Our charts focus on the form of the song and the one and two bar drum patterns that are used through out the song. All charts are on one page so there is no page turning.
WHAT ARE THE BENEFITS TO USING YOUR CHARTS?
Each chart is written on one page, so no page turning is required. And since the song form, bar counts, and drum instructions are clearly written, drummers can focus on playing the song, rather than reading cumbersome traditional music notation. The patterns are notated on 3 lines, allowing for quick reading — even for drummers with limited music reading ability.
WHAT MAKES YOU THE EXPERT?
Credibility Factor 1100% customer satisfaction.Endorsed by Louie Bellson, Gary Chaffee, Remo, Vic Firth, DRUM! Magazine, Not So Modern Drummer Magazine, Berklee Today, Drummer Cafe, Alfred Publishing, Modern Drummer Magazine.Have performed with National Acts, touring Bands and Nashville Recording sessions.
 HOW CAN I LEARN HOW TO WRITE MY OWN CHARTS?
The Best book to learn how to write your own charts is Liz Ficalora's book "How to Write a Fast and Easy Drum Chart" Published by Alfred Publishing. This book was written by a professional drummer  for Professional drummers, students,returning drummers and drummers who are ready to go pro.How To Write a Fast and Easy Drum Chart is a  54 page method book with  CD read more..
WHAT IS A BASIC DRUM PATTERN?
Is a simple to read drumming time pattern using quarter notes and eight notes.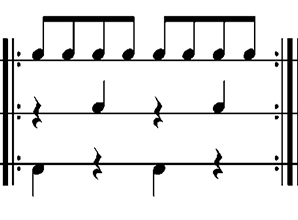 WHAT IS AN ADVANCED DRUM PATTERN?
Is a more advanced drumming time pattern using quarter notes, eight notes and sixteenth notes.