96 Songs to Learn and the
Band Leaves in 2 Weeks?
If you are in that situation or would like to land a job with a touring act leaving out of Nashville, but do not know where to start, call me.
I was the one who had to learn 96 songs in 2 weeks when I arrived in Nashville in 94. I moved from Weymouth Mass, where I played the drums for the band The View. I was hoping to land a job in a touring act and get on the road and that is exactly what happen. I landed a job after arriving in Nashville in 6 weeks.
You too can land a job here in Nashville, but you need the skills.
I can teach you what you need to know.
How to read a Nashville Number chart.
How to write your own song charts.
Advanced hand techniques
Advanced hand and foot techniques
Learn to play with a metronome for practice and live performances
How to read drum music and more.
Schedule one session or many. I can work with your schedule.
$85 per hour for a One Hour Session
$160 for a Two Hour Session
I accept Venmo, Apple Pay or I can invoice you to accept credit cards.
I use ZOOM for all my students if you live out of town.
If you live in Nashville or are going to be in the Nashville area you are welcome to come to my studio.
Why get coaching from me?
#1 I have the experience of moving too Nashville and starting from scratch.
#2 I wrote the book How to Write a Fast and Easy Drum Chart.
#3 I designed the software program Drum Chart Builder.
#4 I have been playing the drums for 50 years.
Contact me today!
Liz@lizficalora.com
•The Best Skills to Play The Drums.
•How To Play A Song
•Hand And Foot Combinations To Build Hand And Foot Speed
•How To Build Hand Techniques And Speed
•How To Count Out A Song
•How To Play Simple Time Patterns That Are Used
•How To How To Build Drum set Independence
•How To Play, Listen and Read Drum Music
Expect to have a great experience from your first lesson to your last lesson. I live music every day and like to expose all my students to new and innovative songs and styles that are used in today's music.
I design a practice workflow, so my students know how to set up their practice space and the best way to practice. You will see a gradual progression that I create for students to advance their drumming techniques enabling them to play the songs they have always wanted to play.
I teach a step-by-step method to playing the drums and each lesson includes technique skills, reading music skills and learning drum patterns to playing songs.
Specialized in: Speed and Accuracy
Hand and Foot Techniques- Build speed and learn how to build the coordination to
make your hands and feet work together with accuracy.
Finger Control- to control your sticks
Endurance- to build speed
Independence- to play complex patterns easily
Charting Techniques - to learn how a song is built
Listening Techniques - to learn how to determine the drum pattern and what to play.
Contact Liz Today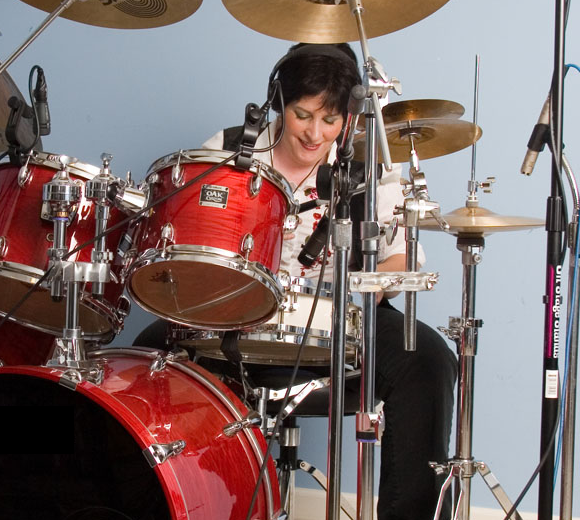 Liz is an experienced teacher, clinician, author with Alfred Publishing, producer and engineer and has taught master classes based upon her book for drummers called "How to Write a Fast and Easy Drum Chart, teaching drummers how to write drum music. Currently, she is the CEO and designer of a new Web App called Drum Chart Builder that builds one-page drum charts for all mobile devices. She has taught clinics at Guitar Center, MTSU, The Percussion and Arts Society International Convention, The SAE Institute, The Musicians Union and TSU. She is a member of ASCAP as a Publisher and Writer, 257 Musicians Union, PAS, Club Cubase and is currently performing The Paint Sisters Band.
Liz is endorsed by Alfred Publishing, REMO, Vic Firth Education Program, Louie Bellson, Gary Chaffee, Rich Redmond, Jeff Salem, and Lalo Davila.
She has been featured in DRUM! Magazine, Tom Tom Magazine and Berklee Today.
Liz has a Bachelor's degree in Music Education from Boston's Berklee College of Music. Under the tutelage of Berklee's finest teachers such as Gary Chaffee, Fusion and Jazz artist, Keith Copeland; Jazz artist, and Fred Budda from the Boston Pops, Liz has grown into a hardworking professional musician touring at age 16 and recording her first album at age 19 with the Calliopes Children Steel Band. She is an Award Winning Jingle Writer and a certified K-12 instrumental and vocal instructor.