"Learn the best skills needed to succeed and achive your drumming goals"
Teacher, Liz Ficalora. CEO, Software Designer
CHARTING AND DRUM LESSONS
Liz is an experienced teacher, clinician, author with Alfred Publishing, producer and engineer and has taught master classes based upon her book for drummers called "How to Write a Fast and Easy Drum Chart, teaching drummers how to write drum music. Currently, she is the CEO and designer of a new Web App called Drum Chart Builder that builds one-page drum charts for all mobile devices. She has taught clinics at Guitar Center, MTSU, The Percussion and Arts Society International Convention, The SAE Institute, The Musicians Union and TSU. She is a member of ASCAP as a Publisher and Writer, 257 Musicians Union, PAS, Club Cubase and is currently performing The Paint Sisters Band.
Liz is endorsed by Alfred Publishing, REMO, Vic Firth Education Program, Louie Bellson, Gary Chaffee, Rich Redmond, Jeff Salem, and Lalo Davila.
She has been featured in DRUM! Magazine, Tom Tom Magazine and Berklee Today.
Liz has a Bachelor's degree in Music Education from Boston's Berklee College of Music. Under the tutelage of Berklee's finest teachers such as Gary Chaffee, Fusion and Jazz artist, Keith Copeland; Jazz artist, and Fred Budda from the Boston Pops, Liz has grown into a hardworking professional musician touring at age 16 and recording her first album at age 19 with the Calliopes Children Steel Band. She is an Award Winning Jingle Writer and a certified K-12 instrumental and vocal instructor.
WHAT OTHER TEACHERS ARE SAYING?
"How to Write a Fast & Easy Drum Chart is useful and uncomplicated yet musically correct. I recommend it for all drummers, whether they think they are composers or not. Because, in reality, we are!."
— Louie Bellson
"Liz's system is presented in a concise and well-organized manner.
Although every drummer has their own approach to this necessary and
invaluable skill; Liz's approach is a great introduction to the steps
needed to get started. The playing examples are clean and well recorded
and the methodical layout of the book makes learning 'fast and easy'!"
— RICH REDMOND
Drummer-Producer-Clinician
(Jason Aldean/Sessions)
www.richredmond.com.
"Nothing complicated about this book. Easy to use and easy to understand. It is a great tool for teaching young musician's about musical form and the perfect guide to quick chart writing."
— LALO DAVILA
Professor of Music,
Director of Percussion Studies,
Middle Tennessee State University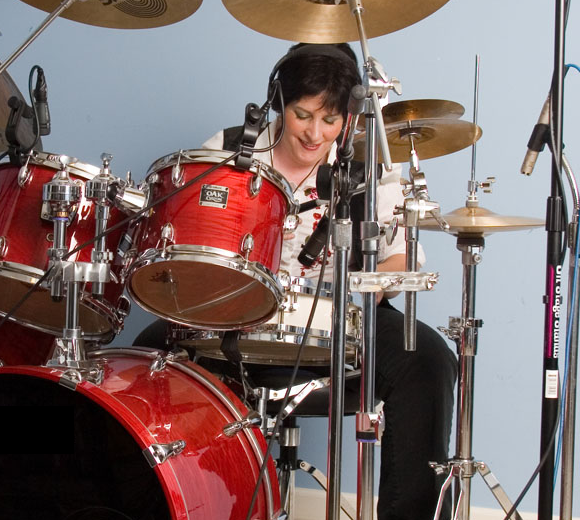 CONTACT US AND SCHEDULE A LESSON TODAY.