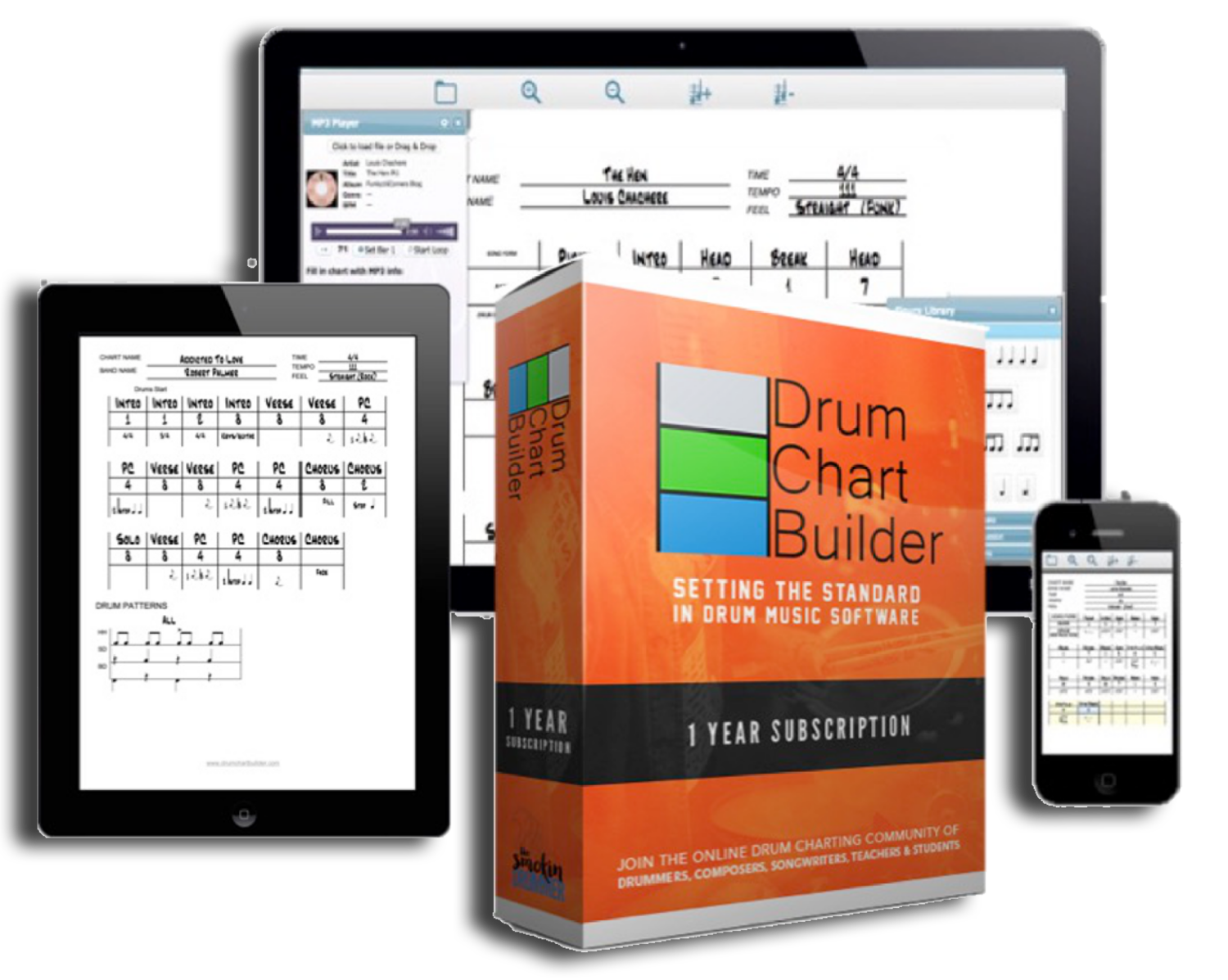 Build One Page Simple, Clear and Clean
Song Charts and Setlists for Your Performances
Try the New Drum Sheet Music Software Tool
Drum Chart Builder Is A Web-Based Software Program For
Creating, Managing, And Viewing Drum Charts And Setlists.
Automatically Downloads To All Devices for Offline Use
Learn How Instructional Video
Build Your Chart Today and Use at Your Gig Tonight.
Fast and easy, the unique all-in-one program to create drum music for all skill levels.
Build a simple one-page map of a song and add key drum patterns at the bottom to
keep the right groove. Build your setlists at home or at your gig. Edit your charts and setlists
at your rehearsals or gigs so you can play the song right the first time.
Versatility working for you, where you need it: in the practice room, in the studio, or on the road.
Forget your mobile device? Just use your phone. Setlists look great and easy to read. 
Fast to Use, Easy To Learn
Use the fast dropdown menus to add song form, count measures and add notation. The program is easy to learn so you can customize your charts your way that works for you.
Build and edit simple drum charts and setlists for your performances directly on stage, on a bus, on a golf course or at outdoor concert with Drum Chart Builder.
View your clean and clear charts and setlist online or offline wherever you are, right on your smartphone, tablet or computer. Discover the first drum charting software available for all devices today, Drum Chart Builder.
Practice to Performance
One tool for the job - packed with features to help you chart, rehearse and play your music.

Use your mobile device to view all setlist and charts for performances, shows, and practice online and offline. Use the metronome at the top of each chart to count the band in with confidence. 
Edit your charts and setlists right before you perform to keep your charts updated
Fast Track Tutorial
Quick Instruction Tutorial is Available
So You Can Building Your Charts Fast.
Follow the step by step instruction on how to start your first chart.
How to count out the song form and add simple one and two bar patterns.
Follow the simple instruction on how to build a setlist and
use the program as a performance tool to
view all your charts one by one and
count the band in using the visual metronome.
Create and customize any pattern with the Notation Editor — edit, save, change time signature and build a library of your own drum patterns you used the most.
Change line labels from HH to TOMS to create a pattern or fill. Create one or two bar patterns and insert into your chart fast.
ADD NOTATION, RESTS AND SYMBOLS
Use the Insert Figure library to add notation, rests and symbols to your chart. Add a signature fill right in the song form. Add the cowbell symbol open high hat or diamonds to your chart making it fast to read and easy to play. Simple select a bar to open the dropdown menu and select Insert Figure to open the library.
EXPORT CHARTS & SETLIST AS PDF'S
Export all setlists and charts to a single PDF file for easy sharing, or print all charts and setlists to make beautiful printer ready copies for gigs or your students. Duplicate all charts and setlists when you are working with two artists performing the same song. No need to rebuild the same chart.
"Liz's system is presented in a concise and well organized manner.  Although every drummer has their own approach to this necessary and invaluable skill; Liz's approach is a great introduction to the steps needed to get started. The playing examples are clean and well recorded and the methodical layout of the book makes learning 'fast and easy'!

Rich Redmond
Drummer-Producer-Clinician
(Jason Aldean/Sessions)
www.richredmond.com
"How to Write a Fast & Easy Drum Chart is useful and uncomplicated yet musically correct. I recommend it for all drummers, whether they think they are composers or not. Because, in reality, we are!

Louie Bellson

Louiebellson.com
https://louiebellson.com/drum-books-bellson-endorsed
"Liz Ficalora's new book, 'How To Write a Fast And Easy Drum Chart Book 2' will help students in understanding the various parts of a tune and how they can quickly put together a chart that indicates all the basic information that they will need when performing. Most contemporary rock and pop tunes are relatively simply in design and using Liz's method will help you to get everything right the first time. This method will be especially handy for students with limited reading ability. Definitely worth checking out.

Gary Chaffee
Clinician, Teacher, Author
"How to Write a Fast and Easy Drum Chart" The title says it all. This is a brilliant piece of work that is a necessity to drummers of all levels. Liz explains her method to writing a simple and effective chart in a clear and concise manner. These chart writing skills will not only benefit yourself but the entire band as well.
Thumbs up.

Jeff Salem

www.drumsinu.com
www.jsmusicstudio.com
www.salemdrum.com
"A great system for putting together effective and useful charts. Much faster than anything Iíve ever used. This charting system works well and is easy to learn.
Lizís system cuts the time and hassle out of learning new songs. Awesome!

Peter Barbeau
Celine Dion/Roch Voisine/Sass Jordan/Aldo Nova
"Nothing complicated about this book. Easy to use and easy to understand. It is a great tool for teaching young musician's about musical form and the perfect guide to quick chart writing."


Lalo Davila
Professor of Music, Director of Percussion Studies, Middle Tennessee State University
"This system of charting is very effective"If your looking for a way to learn songs quickly with minimal hassle
factor this is it... charting out your parts is a skill that WILL GET YOU GIGS!

Tom
Session Player
Nashville
Liz,
Your method of charting is very easy to use and easier to follow than number charts.
Thanks!
Keepin' the Rhythm,

Steve

Professional Drummer and Session Player
Nashville, Tenn.
"Liz's quick and easy method of writing drum charts has helped my drumming immensely. It's a sensible and efficient way to keep track of song arrangements. The process is a natural extension of her simple to follow teaching style,

Great job, Liz

Suzie Wright,

http://tarotcardreadernashville.com/
Professional Drummer
Mount Juliet, Tenn.
"This is an amazing book for beginners or life long drummers. It is so easy to comprehend, and it makes drumming fun and easy to learn.

Allison Arata

Student, Brentwood, Tenn.
Tried the system yesterday and it is great! Terrific to see a visual of the whole song on one half a page. Also showed my teacher and he loved it - said it was very "clean".
I look forward to working with your approach more and may have some questions.
Thank you for taking the time to document it!!

Susan
Professional drummer
Texas
"Liz Ficalora's book has been a great asset to my teaching repertoire. I personally use it with my student's and discuss during drum clinics, how this book works and benefits the drummer. This book has helped me greatly in preparing for work and just getting better at writing and reading music as well."

"How To Write a Fast and Easy Drum Chart" is a must have in your collection, CHECK IT OUT!!!

Chris Infusino

Session Player and Teacher
www.chrisinfusino.com
"Your charting system is KILLER!!! It really makes it much easier to get the chart written up, and even easier to read! I've been handed 26 tunes, many of which are originals, for this new group, and I'm charting and reading faster than I ever have before!

Good for you!!! Only wish I'd thought of this myself...Ya know...Music notation pads are for "Writing Music"...but, your stuff is truly a "CHART" What is should be!

Feel free to use any or all of my note in your ads.....

All the best, Paisano!!!

Bob DeSimone
Big Mama Thornton, The Bernie Pearl Band, Dr. John, Albert King, Long Gone Miles, Curtis Tillman, Taj Mahal & Chuck Berry.

P.S. If you get a chance, a little about me
http://en.wikipedia.org/wiki/Bob_DeSimone
" This book really opened new ways to write out the drum chart fast . "

" I ' ve saved lot's of time in sessions using this method . "

" My students have really enjoyed Liz ' s method . "

Tommi Rautiainen
Freelance Drummer, Teacher, Author
Helsinki, Finland
"As soon as your book arrived in the mail, I hastily tore away the package, opened the book, made some tea and dove right in. It was the most logical, straight forward method I have ever seen. It was so simple that I said to myself why I didn't I think of this?î Well, I'm grateful that you did. I was up and writing charts the very next day.
I can't tell you how much time and anxiety this is saving me. I've recently used this method for sixteen songs that a singer/songwriter hired me."
Best regards,
Bill Supino
Professional Drummer
www.billsupino.com
Hi Liz,

"Finding your book on Amazon was like being thrown a lifeline while sinking in quicksand!

As a new drummer, I had been trying to find country music charts in order to see "how they do it" - hard to find. Until I discovered your book, "How to Write a Fast & Easy Drum Chart". Boy, can you ever communicate in a helpful way!

I'm a retired guy who is working on a highly aspirational "Bucket List". Since November 2012, I've been working very diligently on learning how to play the drums in the context of country music. You seem to be the God-send that I've been looking for.

Thank you so much for taking the time to follow your dreams, creating the F&E Drum Chart, writing the book, and so effectively teaching me and scores of others how to play better drums."


Your latest and greatest fan,
Richard Buchanan

 
Walfredo Reyes Jr. - Drummers for Chicago
96 Song to chart and the band leaves in two weeks.
At a rehearsal, you are given 5 pages of measure after measure of music to play.
Auditions, how to do you prepare?
Bands and shows, how do you keep organized?
Many drummers every day are faced with this problem and are forced to solve the problem either by hoping they can memorize all the songs or